Heidi Chang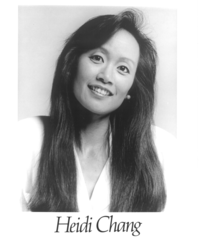 Username: HeidiChang
Independent Producer & Multimedia Journalist
Role: Producer/Reporter: Independent
---
Email: HeidiKLChang@gmail.com
About Me
Heidi Chang is an award-winning multimedia journalist and producer, who contributes stories about Hawaii and the Pacific Rim for radio, podcasts, television, print and digital media.
Her work has been featured on National Public Radio, PRI's "The World" and "Living on Earth," Voice of America, APM's "Marketplace" and "Weekend America," ABC News Radio, AP Radio, KQED's "Pacific Time," The Environment Report, Monitor Radio, Canadian Broadcasting Corporation, KQED and other media.
Heidi's NPR stories on "Soundtracking 'The Descendants' with 'Real' Hawaiian Music" and Hawaiian cultural icon, Nona Beamer, won national awards from the Asian American Journalists Association. She's also been honored with numerous SPJ Hawaii Chapter Awards.
Heidi has worked in TV news in San Francisco, Seattle and Honolulu, and as a freelance field producer for ABC's "Good Morning America." She's also worked on films, TV shows, and documentaries.
Heidi has written for the Los Angeles Times, NBC News, Honolulu Star-Advertiser, Honolulu Magazine, Civil Beat, Pacific Business News, Honolulu Star-Bulletin, Honolulu Advertiser and other media outlets. She's also done research for CBS News "48 Hours."
Heidi began her media career hosting popular radio shows in Honolulu, featuring jazz, rock, pop, rhythm and blues and Hawaiian music. In San Francisco, Heidi hosted shows on KBLX "The Quiet Storm" and KCSM.
As a teenager, she grew up in Europe, and traveled in Africa and Asia. Heidi now lives in Honolulu, where she has deep island roots.
My Groups:
Favorite Shows:
Influences:
Availability
Heidi is currently available for new projects, has a car, and is available to travel Internationally.
Skills
Producing: News
Field Recording
Hosting News Programs
Voice Talent
Editing
Music Consulting
Reporting
News Consulting
Hosting Music Programs
Podcast Production: Basic
Writing
Producing: Music and Performance Programs
Podcast Production: Moderate to High
Hosting Call-in and Live Programs
photography
video production
Available For
Multimedia
Promotion and Marketing
Consulting
Music Recording
Field Recording
News Reporting
Documentary Production
Interviewing
Post Production
Tape Syncs
Print Reporting
Environmental Reporting
Acting
Voiceover
Arts Reporting
Sound Editing
Music Programming
Podcasting
Commentary
Mentoring
Grant Writing
Equipment
Hard Disc/Flash Recorder
Specialized Mics
---
Work Experience
Previously Aired On
Education